2014
Learner/Student and Community Partnership Award
Youth Creating Change (video summary here)
Partners: Theo Yonn-Brown, Director/UCSF Volunteer Coordinator; Gabriel Santamaria, Director/Co-Founder/HOMEY Volunteer Coordinator; Joe Pantoja, Co-Founder/Advisory Committee Chair; Griselda Velasquez, Health Workshop Director; Donald Richards, Academic Workshop Director
Faculty and Community Partnership Award
Community Service Learning – Dental Externship Program (video summary here)
Partners: Arriane Terlet, DDS, Dental Director, La Clinica De La Raza, Oakland; Marco Reyes, DDS, Life Long Medical Center, Berkeley Dental Clinic; Helena Khim, Externship Coordinator, UCSF School of Dentistry; Baharak Amanzadeh, DDS, MPH, Dental Externship Program Director, UCSF School of Dentistry
Staff and Community Partnership Award
The Bigger Picture (video summary here)
Partners: Hodari Davis, Youth Speaks National Program Director; Sarah Fine, UCSF/SFGH Center for Vulnerable Populations, Project Director; Dean Schillinger, UCSF/SFGH Center for Vulnerable Populations, The Bigger Picture Co-Founder
2013
Learner/Student and Community Partnership Award
Student's United for America's Toothfairy
Partners: UCSF Student Society of Pediatric Dentistry, Bay Area Oral Health Zone
Student's United for American's Toothfairy (SUAT) is a student‐action group dedicated to increasing local awareness of pediatric dental disease. Students in the UCSF Chapter of the SUAT improve community oral health literacy and raise critical funds to support vital preventative services in the their community in partnership with allies in the Bay Area Oral Health Zone. Together, they engage key stakeholders in local health departments and school districts to foster sustainable dental public health projects.
Faculty and Community Partnership Award
Abundant Life Health Ministries Initiative
Partners: UCSF Helen Diller Family Comprehensive Cancer Center, Neighborhood Baptist Church, John Muir Health Alliance, Mills Peninsula African American Community Health Advisory Committee, Alta Bates Summit Ethnic Health Institute, American Cancer Society/SF, American Diabetes Association/SF, American Heart Association/SF, CA Department of Public Health Network for Healthy California, Arthur H. Coleman Medical Center, Men's Health Committee—Alameda County DPH Urban Male Health, Acts Full Gospel Church, Voices of Hope Community Church, St. Andrew's Church/SF, Healthy Oakland Clinic and Resource Center
The Abundant Life Health Ministries Initiative is a collaboration whose goal is to strengthen health ministries to promote health and to end cancer disparities. It was created in a response to the high rates of chronic disease in African American communities. The initiative seeks to build upon the prominent role of churches in the lives of many African American's by establishing a widespread, collaborative effort to address chronic disease through culturally appropriate and relevant venues, and to better engage faith leaders in the health and wellness of their communities.
Staff and Community Partnership Award
UCSF Healthy Environments and Response to Trauma in Schools (HEARTS)
Partners: UCSF, San Francisco Unified School District
The UCSF Healthy Environments and Response to Trauma in Schools (HEARTS) project is a comprehensive multilevel school‐based prevention and intervention program for children who have experienced trauma. The goal of UCSF HEARTS is to create school environments that are more trauma‐sensitive and supportive of the needs of traumatized children. Their main objective is to work collaboratively with SFUSD to promote school successes by decreasing trauma‐related difficulties and increasing healthy functioning in students.
2012
Learner and Community Award
SFUSD PE Partnership
Partners: San Francisco Unified School District, Shape Up SF, UCSF
Physical activity is vital to the current and long-term health of youth, yet inactivity is high. School Physical Education (PE) has been identified as one of the most effective public health tools to increase youth physical activity levels and improve fitness and health outcomes. Concern that PE was not meeting state standards led the San Francisco Department of Public Health's Shape Up San Francisco to form the PE Advocates, bringing together the SFUSD PE Department, UCSF, and other interested community partners. When PE Advocates formed, little empirical evidence existed on the quality and quantity of PE in the district. As a result, a partnership between SFUSD (including the SFUSD PE Department, the Public Education Enrichment Fund Office, and the Leadership, Equity, Achievement, and Design Program), Shape Up San Francisco, and researchers at UCSF, formed to examine the quality and quantity of PE. In Spring 2011, UCSF evaluated 28 schools in SFUSD, including observations of almost 200 PE classes, over 4,000 student surveys, interviews with 51 teachers and 28 principals, and surveys of PTA presidents. The partners presented evaluation results to the Board of Education, district administrators, principals, and teachers. Disseminating these results prompted SFUSD to increase funding for elementary school PE specialists by 25% during the 2012-13 school year and highlighted the value of PE. The partners will continue collaborating and repeat the evaluation in Spring 2013 to assess progress that has been made since the original evaluation.
Faculty and Community Award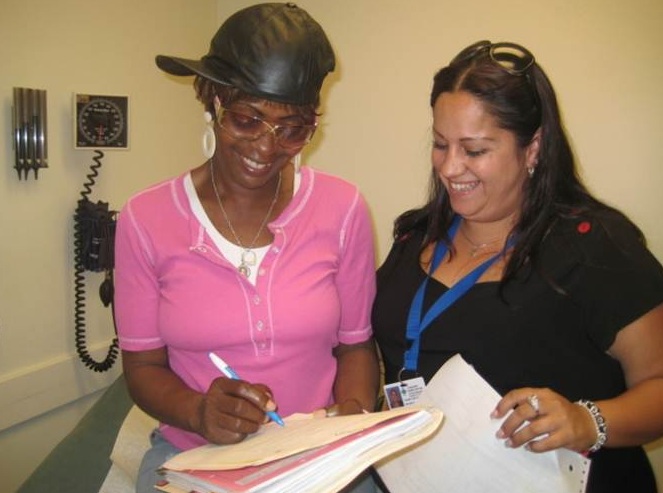 Post Release Wellness Project
Partners: Transitions Clinic/UCSF, Legal Services for Prisoners with Children, City College of San Francisco, San Francisco Public Health Foundation, UCSF Department of Family and Community Medicine
The Post Release Wellness Project (PRWP) is a collaboration that aims to promote returning prisoners' wellness, successful reintegration into the community, and lifelong health. PRWP provides San Francisco's chronically-ill former prisoners with equal access to quality healthcare services, opportunities in higher education and advocacy. The PRWP also works to change policies that prevent equal access to health services for former prisoners on a local and state level.
The PRWP developed an innovative patient-centered medical home for chronically-ill returning prisoners called Transitions Clinic program (TC), located at Southeast Health Center. TC is staffed by formerly incarcerated community health workers (CHWs) that provide case management for medical and social service needs. Through community-based focus groups and maintaining a community advisory board (CAB) made up of previously incarcerated individuals, the PRWP ensures that the needs of this population are continually met in a culturally competent manner.
This community participation also directed the PRWP's development of the first college-based vocational education certificate focused on returning prisoners' health: the Post-Prison Health Worker Certificate (PPHW). This curriculum, located at City College of San Francisco (CCSF), is aimed at training former inmates to become frontline public health and social service providers. By becoming CHWs, former prisoners leverage their own experiences and give back to their community by aiding other individuals transitioning back home from prison
CHW students participating in the PPHW curriculum learn alongside UCSF residents who rotate simultaneously at the Transitions clinic and learn culturally competent approaches to caring for this vulnerable and complex patient population.
Staff and Community Award
Enhancing Young Women's Health through University Community Partnerships
Partners: National Center of Excellence in Women's Health, SFUSD Wellness Programs
Enhancing Young Women's Health through University-Community Partnerships is a 12- year partnership between the UCSF National Center of Excellence in Women's Health and the SFUSD Wellness program. Utilizing a "Positive Youth Development" approach, the partners have created a multi-faceted, comprehensive program designed to stimulate young women's interests in their own health and the health of their communities. At the same time, the program provides young women with the training, resources, support, and opportunities to be leaders and change their worlds. At the heart of this partnership is the shared belief that young women know the challenges they are facing and have the best ideas about how to address them. The roles of the partners are to support and utilize each other's strengths to enhance our work in empowering young women to advance their health.
2011
Learner and Community Award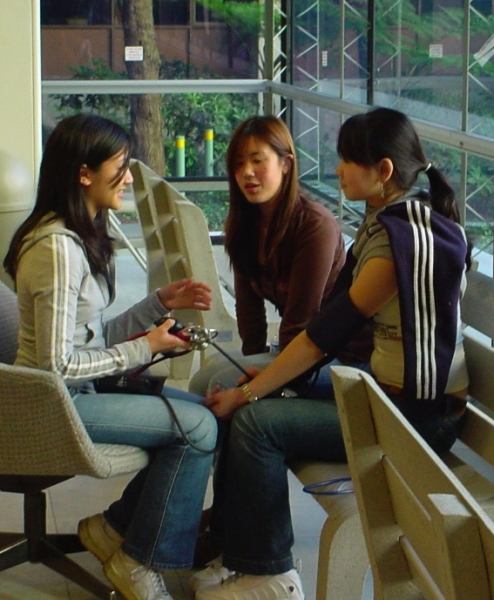 UCSF MedLink
Partners: UCSF Medical Students, College Track, USF Upward Bound, Making Waves, and others
UCSF MedLink is a program created by UCSF medical students in 2002 to promote a vision of ethnic and economic diversity in the health professions. The mission of the program is to support meaningful and lasting relationships between first-generation college-bound high school students from educationally disadvantaged communities and medical students at UCSF through one-on-one mentorship, connections to educational and extra-curricular opportunities, and inspiring activities on campus at UCSF. Students and faculty from UCSF work in close partnership with several Bay Area community organizations and San Francisco high schools to support and inspire the next generation of healthcare workers. The program frequently provides high school students their first opportunity to visit college/graduate school classrooms and facilities and their first meaningful interaction with someone in graduate school. Just as importantly, high school students provide meaningful and personal connections to the communities of San Francisco for all of the UCSF medical student mentors.
Faculty and Community Award
Painting Healthier Smiles
Partners: SF Department of Public Health, Child Health & Disability Prevention Program and Child Care Health Project, UCSF Department of Preventive and Restorative Dental Sciences, Division of Oral Epidemiology and Dental Public Health
Targeting low-income children in the Chinatown, Bayview/Hunters Point, Tenderloin, Mission, and Outer Sunset, this service learning project is in its third year of partnering with UCSF dental students and the San Francisco Department of Public Health's (SFDPH) Child Care Health Project and Child Health & Disability Prevention (CHDP) Program. This project is a combination of training dental students how to, and why they should be providing preventive dental services to children beginning at age one. After a thorough didactic training, dental students are provided hands-on one-on-one training in how to provide oral health screenings, education and fluoride varnish applications to infants, toddlers and preschoolers. The targeted preschools are state-subsidized, low-income preschools located throughout San Francisco.
The goals of this project are to:
Improve the oral health of children from underserved families attending low-income preschools in San Francisco.
Provide an educational and skills-building experience for dental students.
Continue strengthening the partnership between UCSF School of Dentistry, SFDPH's CCHP & CHDP and the targeted communities being served.
Raise awareness of the importance of dental disease prevention, and early routine dental visits, in the community.
Staff and Community Award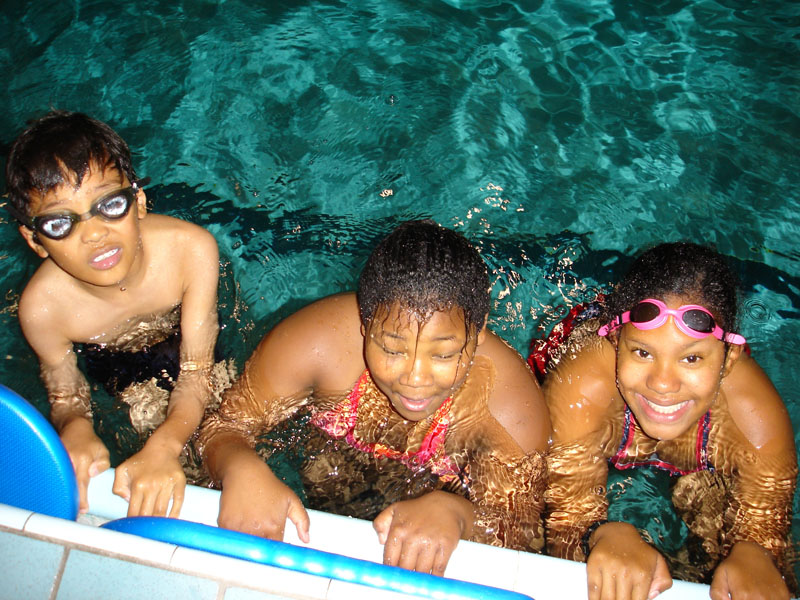 Physical Activity Referrals to the Community (PARC)
Partners: Boys & Girls Clubs of San Francisco, The UCSF Weight Assessment for Teen and Child Health (WATCH) program and others
In the past few decades, poor nutrition and physical inactivity in the U.S. have resulted in epidemic rates of obesity among youth. While there has been some leveling off in obesity rates overall, obesity among youth of color continues to increase. In the fall of 2010, Boys & Girls Clubs of San Francisco (BGCSF) and The UCSF Weight Assessment for Teen and Child Health (WATCH) program began a pilot program to refer obese patients to BGCSF's Learn to Swim program. This is part of an innovative program called Physical Activity Referrals to the Community (PARC), where patients are given a prescription to exercise and more importantly, an affordable place to exercise. Established in 1891, BGCSF is the largest after school program provider in San Francisco, serving 16,200 youth ages six to 18 annually. High quality swimming lessons, normally valued at $100, are provided to WATCH patients at a discount of $5 for 8 lessons. This first year pilot focused on swimming, an ideal activity for extremely obese youth with joint pain, but the second year includes plans to expand referrals to other physical activity programs at all nine Boys & Girls Clubs in San Francisco. The overall goal of the partnership is to expand physical activity opportunities for low-income obese patients - 50 were referred in the first year. The goal of the pilot project is to create an effective referral and tracking system between BGCSF and the UCSF WATCH Clinic and ultimately, to improve healthy habits and weight status among patients.
2010
Fifteen outstanding partnerships were nominated for Excellence in Partnership Awards this year. We received five nominations in each of the three categories - faculty and community, student/learner and community and staff and community partnership awards.
Faculty and Community Partnership Award
CART: Improving Outcomes for Transition Age Youth and Adults with Developmental Disabilities
Partners: Developmental Primary Care, Family and Community Medicine, The Arc of San Francisco, Health Plan of San Mateo, Golden Gate Regional Center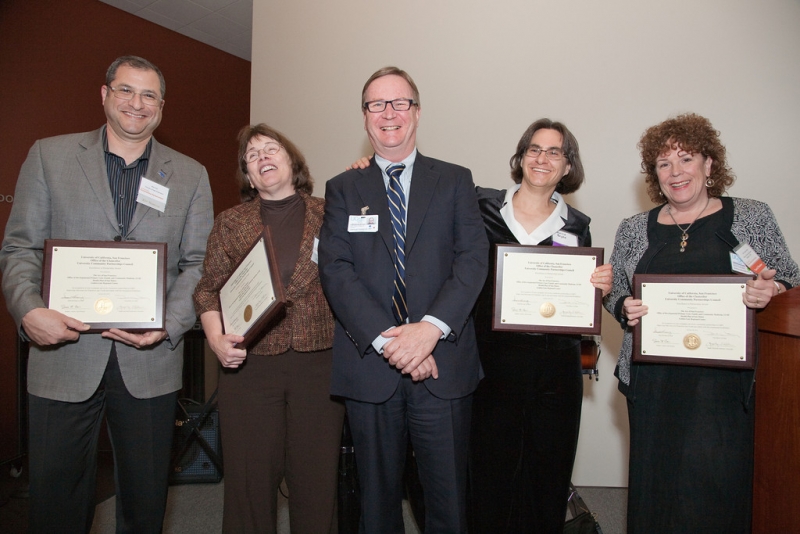 In 2006, a coalition of university and community stakeholders led by The Arc of San Francisco convened with the mission to ensure that people with developmental disabilities (DD) have access to health care services. Health care for people with DD was defined as interdisciplinary team-based care with patients and caregivers at its core. The stakeholders identified four key components: Clinical services for both primary care and consultation; Advocacy and in-home support for patients; Research in health surveillance and health services; and Technical assistance and training for clinicians. To integrate these components into a model pilot system of care, the group identified four main stakeholders: UCSF, The Arc of San Francisco, Health Plan of San Mateo and Golden Gate Regional Center. The group proposed the CART Model, a program within a public health plan that rests on four, integrated pillars: primary care practices that offer an enhanced service; centers of expertise to provide consultation and technical assistance; nurse-administered, yearly health checks to provide a reliable source of shared data on every member; and health advocacy services to ensure patients have support to partner effectively. A sustained commitment to work together yielded an organizational structure in which system change is taking root. Partners are working together to build the components of the model system of care and to develop sustainable funds to integrate them.
Student/Learner and Community Partnership Award
Street Outreach Services (SOS)
Partners: San Francisco Community Clinic Consortium/Street Outreach Services, UCSF Internal Medicine Residency Training Program, UCSF School of Medicine, UCSF UFO study, USF School of Nursing, San Francisco Department of Public Health, Martin de Porres House of Hospitality, Most Holy Redeemer Church, Native American Dental Clinic and Project Homeless Connect
Since 1988 the SOS program, SFCCC's only mobile clinic dedicated exclusively to serving homeless people, has provided urgent and preventive medical care to people living on the streets of San Francisco. SOS travels to sites throughout the City, creating "clinics without walls" on the streets, in parks, under freeway overpasses – anywhere homeless people live and congregate. SOS provides services at more than 20 sites each week and serves more than 2,000 clients each year, with more than 850 of those clients receiving urgent and preventive medical care. To date, the SOS program has trained more than 225 medical residents and numerous other students. The Federal government has recently encouraged strategies to increase training opportunities for medical students and residents in community-based settings like ours. This federal mandate for increasing the numbers of new physicians-in-training at community-based health centers underscores the necessity of these programs. SOS offers a service-learning model that ensures that new physicians are provided with important experiences to observe and practice social responsibility and community-based care. These experiences, in turn, will increase the likelihood that these physicians will make a career of meeting the needs of our country's most vulnerable patients.
Staff and Community Partnership Award
Marie Wattis School at UCSF Benioff Children's Hospital/San Francisco Unified School District
Partners: UCSF Benioff Children's Hospital, San Francisco Unified School District, and other key partners
The Marie Wattis School at UCSF Benioff Children's Hospital is a joint partnership created to sustain improved educational outcomes of hospitalized and disadvantaged children in San Francisco. Chemotherapy, radiation, dialysis and other medical treatments can profoundly affect students' lives, often in unexpected and negative ways. Several studies suggest that youth diagnosed with cancer are at higher risk for problems including social anxiety, poor self-esteem, depression, poor social skills, school phobia and school reintegration problems. Survivors have 20% lower high school graduation rates, are 30% less likely to go to college than their peers and have substantially increased rates of absenteeism. The UCSF/SFUSD partnership has formed an integrated service model that allows students to attend school during outpatient or inpatient treatment. As a result of this partnership, students undergoing treatment at UCSF Benioff Children's Hospital now receive state-approved school curriculum, as well as attendance and coursework credit.
2009
At the first annual University Community Partnerships Awards and Celebration in 2009, four outstanding partnerships were recognized for their work. In addition, the Community Partnership Resource Center (CPRC) awarded three awards to individuals whose leadership, dedication and commitment to excellence in community-university partnerships helped build CPRC and laid the foundation for today's UCP. Gwen Henry was also recognized by the Office of Univesity Community Partnerships for her visionary leadership as the founding Community Co-Chair of the University Community Partnerships Council.
Community Outreach Internship Program
Community Outreach Internship Program (COIP) helps prepare participants for administrative assistant positions by focusing on skill-based training and providing an introductory internship placement. COIP trains participants for employment by providing pre-internship training, skill assessment, skill development and a paid internship placement in a UCSF department.
Hepatitis B Education, Outreach and Screening
Since 2004, SFHBC has held Hepatitis B education and screening events at local community centers around the San Francisco Bay Area. In 2007, they opened monthly Hepatitis B clinics at Mt. Zion UCSF Medical Center and at the Chinatown Public Health Center. With the San Francisco Hep B Free campaign, they are working to make San Francisco the first hepatitis B free city in the nation.
UCSF and SFUSD Collaboration on Science and Health Education
Initiated in 1987 by University of California at San Francisco (UCSF), the Science and Health Education Partnership (SEP) is recognized nationally and internationally as a model organization that promotes partnership between scientists and educators in support of high quality science education for K-12 students. The UCSF Center for Science Education and Opportunity (CSEO) also partners with individual schools in the region, CSEO hosts two annual events, "MAP to College" and "Plan on College," that bring college access professionals from throughout the Bay Area to UCSF to offer their knowledge, insight and support to the local community.
Lay Health Worker Colorectal Cancer Screening Amongst Chinese Americans
NICOS Chinese Health Coalition, working in partnership with UCSF's Dr. Tung Nguyen and the SFSU Department of Health Education, launched the Lay Health Worker Colorectal Screening initiative to expand understanding of what constitutes a lay health worker (LHW) and how those characteristics determine the effectiveness of LHW as health educators on colorectal cancer screening in the context of community and culture.
Community Partnership Resource Center
Robert Uhrle
Naomi Wortis, MD
Roberto Ariel Vargas, MPH
University Community Partnerships - Founding Community Co-Chair
Gwen Henry